For our senior loved ones, medication management is an important topic.  Failing to take medications as prescribed is quite common in this age group, and unfortunately it is also quite dangerous.
According to the CDC, adverse drug events lead older adults to visit the emergency room around 450,000 times per year, largely in part because seniors take more medications than any other age group. Studies show that 87% of seniors take one prescription drug, 36% take 5 or more, and 38% use over-the-counter medications. That's why medication management for seniors is such an important topic.
For those with memory problems, managing medications can be even more difficult. Some may fail to fill or refill a prescription or accidentally take the wrong dose. Fortunately, there are a number of things that can help make medication management a little bit easier.
At Unicity Healthcare we provide non-medical and medical homecare services to our clients. Our services are customized and range from a few hours per day to 24/7 (live-in). Our licensed, trained and experienced Home Health Aides can assist you or your loved one with maintaining a daily routine.
Our caregivers provide important tasks, including assistance with activities of daily living and personal care.  Additionally, our homecare companions provide friendly support and assistance to care for you or your loved one with a high level of independence in one's own familiar and comfortable surroundings.  Homecare companions can plan your loved one's doctor's appointments, as well as can ensure your loved one takes his/her medication on time and safely.
In our blog, we discuss the important of medication management to ensure the safety of your aging loved ones.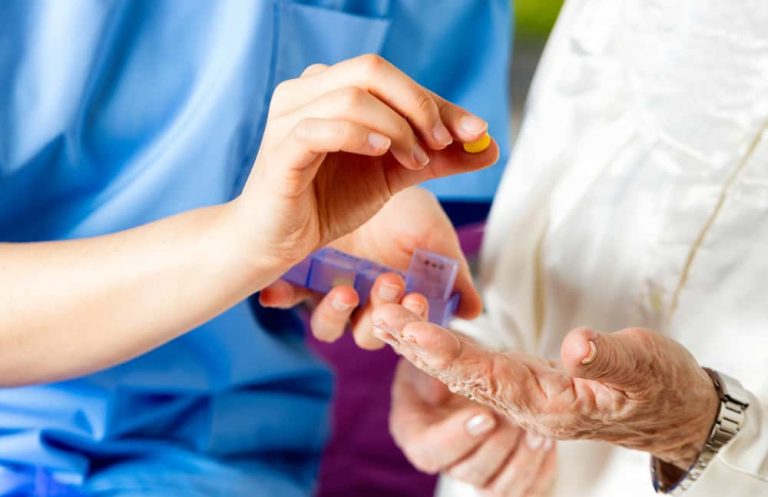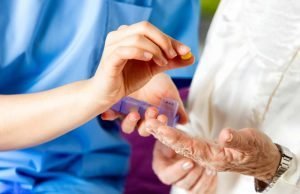 What Is Medication Management?
Managing your senior loved one's medications is essential for good health. The facts are, taking multiple medications is a way of life for most older adults. But taking it correctly is essential for treating health conditions and managing symptoms.
Putting a simple system in place and taking care of the basics helps seniors avoid common medication mistakes like taking the wrong drug, missing doses, or taking more than prescribed. Additionally, medications can interact with other prescription medications; and can have complex interactions with a variety of different foods, supplements, and over the counter drugs.  Thus, the importance of medication management can be a matter of life and death.
Choosing the right approach to medication management largely depends on an individual's unique circumstances; thus you need to evaluate how your older adult will need to safely manage their medications and when they require assistance from a professional.

Medication Management Tips
1.  List All Medications, Supplements And OTC Drugs 
Some older adults might keep certain pills in the kitchen, or others in the bathroom medicine cabinet so having a complete list with this information handy makes it easier for health providers to identify possible negative effects or drug interactions. Keep that list up to date with the brand names, dosage being taken, and frequency of the dose. It's especially important to include over-the-counter medications because they could negatively interact with prescription medications.
Gather everything into one place so you can se what is being taken and dispose of expired medications.  Additionally, be sure to record:
Names of each prescription medication, over-the-counter medication, vitamins, and supplements
How often each item is taken
What dosage of each item is used
The healthcare provider who prescribed each prescription medication
The purpose of each item and/or symptoms it's supposed to treat
Whether each item is for short-term or long-term use
2.  Proper Medication Storage
Medication should be kept in a cool and dry place, and the bathroom often isn't a good place to keep meds as moisture and heat can affect drugs. Medications should also be kept safely away from children or pets. For medication that requires specific storage, for example refrigeration, follow the doctor or pharmacist's instructions.
3.  Stay Organized
Staying organized is essential to good medication management for seniors. Using a pill organizer allows you to help your older adult pre-sort their medications for the week. The best type of pill organizer for your older adult is one with enough compartments for every dose they'll need throughout the day.
4.  Check For Drug Interactions
Many older adults are taking multiple medications, vitamins, over-the-counter medications, or supplements. That's why it's important to double-check to make sure none of them cause serious negative interactions.
5.  Clear Instructions For Medication Dosage
It's vital to follow your health care provider's instructions when dealing with prescription medications.  This minimizes the risk of negative drug interactions, side effects, and the drug losing effectiveness. You and your older adult should understand which medications are safe to take at the same time, or which need to be spaced out to prevent negative side effects. Some medications need to be taken on a full stomach while others need an empty stomach. Be sure to ask your pharmacist or health care provider for explanations and detailed instructions.
6.  Medication Reminder Systems
It can be difficult to remember when to take each dose when you are dealing with multiple medications. A medication reminder system and tracking log can help your senior loved ones to keep track of when they need to take their medication on a daily basis.
To help remember when it's time to take medicine, there are a variety of ways to set reminders. Some older adults might like to set a series of alarms on their mobile phone. Tech-savvy seniors might find a medication management app useful. Eve a basic alarm clock could work well, or a telephone-based reminder might work better and allow for more doses through the day.
7.  Understanding Medication Side Effects
Be aware of potential side effects and drug interactions in order to identify any health changes that could happen after your older adult starts a new medication, increases their dosage, or combines medications. Some side effects could even mimic other health conditions, including dementia, so if you do notice changes, contact their doctor right away.
8.  Medication Refills
It's essential to get refills in a timely fashion so your older adult doesn't miss any dosages. The most convenient solution is to ask the doctor to prescribe a 90 day supply through a mail-order pharmacy, to ensure the medication will be mailed to your loved one directly.
Many pharmacies also offer automatic refills and will notify you when the prescription is ready to be picked up. Some pharmacies may also have prescription delivery services so you won't have to pick them up.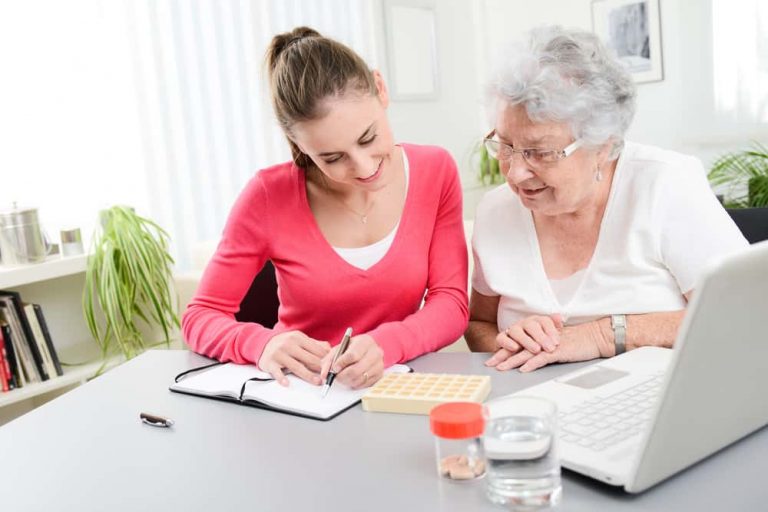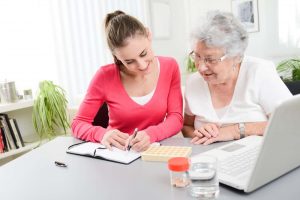 Seniors With Alzheimer's/Dementia And Medication Management 
If your older adult has been diagnosed with Alzheimer's or dementia, they will likely need help with their medication. Their cognitive impairment means that a reminder system may not be helpful enough. And taking medications incorrectly could cause serious harm to their health.
For older adults with minor memory problems, alarm systems or calendar systems can be handy. But if a loved one is suffering from a more severe cognitive impairment, it may not be safe for them to manage their own medications. Improperly taking medications can be dangerous, which is why failing to take medications as prescribed can be a warning sign that a medication management care plan may be necessary.

We're Here To Help 
Our integrated care management services bring peace of mind to our clients and their families. By integrated we mean that our Care Managers, who are either highly experienced geriatric Social Workers or Registered Nurses, act as the glue that holds the care process together. Our scope of intervention and expertise is broad. There is always a solution and we are here to help.
Keeping a client centered approach, our certified Senior Advisors can not only help in finding the most appropriate care solutions for our clients, but they also help in the implementation of these solutions in a very pragmatic manner. From setting up and supervising homecare services to finding placement alternatives, our Care Managers always act in our clients' best interests and with the utmost professionalism.
In the event that homecare is the most appropriate care alternative, our Care Managers can most definitely help make it work, capitalizing on the large pool of caregivers that Unicity employs and substantial experience in Home Healthcare.
Feel free to review our Homecare And Care Management Brochures For Further Information On The Services We Provide:
You can benefit from the expertise of our experienced Senior Advisors, and can inquire below on how to seek help from Unicity's qualified home care professionals to help ease the burden.
For more information please contact us at: