Vacationing with your senior parents, grandparents or other loved ones may seem daunting since as they age, it becomes more difficult for them to get around.  Some elderly adults struggle with stairs or walking for long periods of time; and others may need a cane, walker, or wheelchair to assist with mobility.  While mobility challenges can make taking a trip or vacationing seem intimidating, this doesn't need to be the case if you plan accordingly.  In fact, simply being "older" shouldn't mean you cannot travel or vacation together any longer.
The key to traveling this summer with your senior loved ones is to plan ahead! Below, check out our tips for traveling with your seniors that will make the summer vacation season pleasurable for everyone!

Planning For Traveling With Seniors
When traveling with elderly adults, there are some special considerations to keep in mind. Here are some suggestions to make the trip more comfortable. Be sure you plan ahead and take into consideration all of the special needs they might have.
Pack Essentials
If your loved one is going to be sitting in a car or on a plane for extended periods, consider buying supportive stockings to prevent blood clots and numbness in the legs.  In addition, pack light clothes that can be layered and take basic medical information everywhere you go, in case of an emergency. This includes the doctor's contact information, insurance information, a copy of your medical power of attorney form, and all prescription information. Other essentials to have on hand at all times are medications, snacks, and water.
Consult A Doctor
Be sure to contact your doctor to find out what precautions you may need to take for your senior loved one. If they have certain medical conditions, there may be special instructions.  Make sure he or she feels that your elderly loved one is able to manage the stress of traveling and the change in routine. Confirm that all medications are refilled and in their original bottles for ease of identification.
Consult with the elder's primary care physician before booking any travel plans to discuss the following issues:
Are the method(s) of travel and destination(s) you've chosen appropriate for the senior's abilities and limitations?
Do they need any special vaccinations?
Can the doctor prescribe a medication or supplement to help with anxiety or other behavioral issues that might arise?
Does the doctor have any additional suggestions or concerns that you should be prepared for?
If Traveling By Car –
If you are traveling by bus or car, frequent stops may be necessary. Some travel with portable potties for those long stretches of road, and if your loved one suffers from arthritis or leg cramps, you might want to consider leg wraps. They also make car hand bars to make it easier to get in and out of the car.
Seniors need to stretch often, and the break is good for everyone. Prior to your trip, map out points of interest where you can make regular stops.  Be sure assistive devices like canes and walkers are easily accessible, along with any needed medications.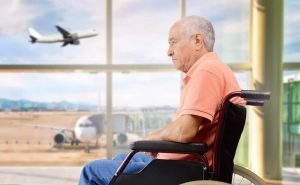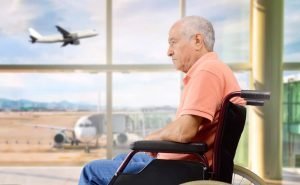 If Traveling By Plane –
Keep in mind that for the elderly with limited mobility, it may take longer for your loved one to board the aircraft, so check with your airline about their boarding policies for those with disabilities. Take advantage of the assistance offered at the airport; a wheelchair can help ease fatigue and make the airport experience less stressful. Be sure to reserve any special services needed when booking your flight, as they may be unavailable otherwise. 
When going by air, consider also going through security.  Wearing easy clothing and minimizing carry-on items, and wear shoes very easy to take on and off.   Be sure to inform the security officer if you have had surgery that required metal devices placed in a hip, etc., as your seniors go through the scanners.
It is also a good idea as you book your flight to consider not just cost, but also the best trip in terms of direct flights to minimize switching planes.  Also for older loved ones, selecting a departure time at mid-morning or early afternoon can ensure the best stamina through the trip.
Be Realistic About Your Itinerary
Be sure to plan your itinerary accordingly. If your parents like to turn in early, let them.  You and other family members may be able to spend some time enjoying things like dinner at your own pace, and there are no rules that say you have to spend every moment of your vacation together.
In addition, be realistic about the amount of activity, walking and traveling your loved one is capable of. Keep your plans flexible to accommodate how they are feeling each day. If your loved one has limited mobility, carefully ensure the trip will accommodate your elder's special needs. In addition to mobility and accessibility, be sure to take their stamina and energy levels into account. Travel and excitement can wear on everyone after a while, so allow plenty of time for rest between activities, and don't make the trip too long overall.
Medication And Travel
If traveling by air, all prescription medications need to be in approved containers. Airlines may require you to transport medication in the prescription bottles. The best way to do so is to keep them in your carry on and in a plastic, zipped baggie. Be sure you are taking along an ample supply or medications, and prepare a medical history and medication list and keeping it with your loved one as well in case there are any problems.  Proper medication management is always important, and it may be a good idea to have some way to remind yourself of the dosage times of your loved ones prescriptions.
Personal And Medical Documentation
A government passport is accepted as the highest level of identification by federal TSA security officers. Make at least three photocopy sets of the passport, driver's license, Medicare and insurance cards, travel tickets and itinerary, boarding pass, plus any physician prescriptions and/or statements. One complete set is placed in your parent's hand-carry bag, one set is forwarded to family members at the arrival destination, and one is left at home. In addition, request copies of prescriptions and/or statements of medical conditions from each physician and medical treatment center.

Senior Safety, Security And Comfort
Particularly in high-traffic travel areas, seniors can be seen as targets and vulnerable.  Discourage your loved ones from carrying a wallet or a purse; if they choose to do so, use money belts worn underneath clothing.
For comfort, consider the purchase of a travel pillow which supports the neck and head when resting aboard transportation. Since traveling long distances can be uncomfortable, be sure to wear loose-fitting clothing. Keeping a bottle on water on hand is helpful for keeping hydrated and for taking medications, and packing a light snack is a good idea.
Hotel And Other Elderly Accommodations
Request seat assignment in the rows designated for disabled travelers, and also request cost-free wheelchair service at every airport origination, connection and arrival location. If there is meal service aboard, advise the reservation system of any dietary needs. If you don't make and confirm all of these requests at the time of reservation, the airline, train or bus line has no obligation to make them available on check-in or while en route.
When staying in hotels, bathing can be difficult – so taking along a portable shower bench is helpful. Some items that are often hard to find if you should need them are hearing aid batteries and denture cream, so be sure to have extra packed. If you fear getting separated from your loved one, consider a GPS cell phone.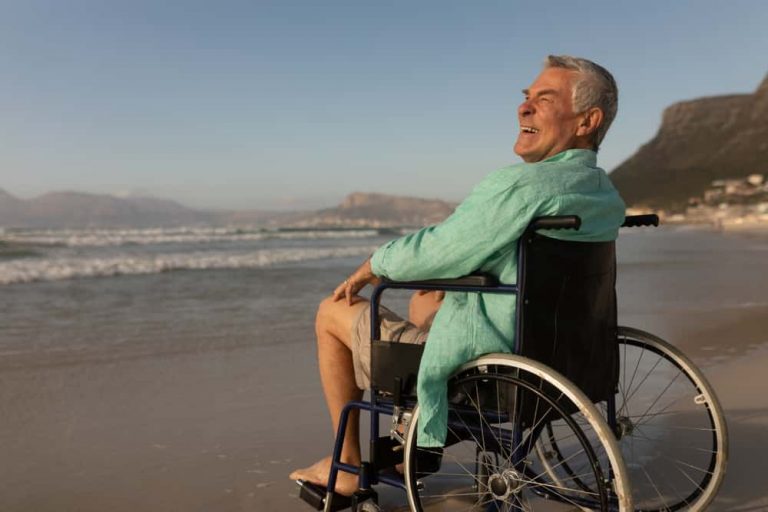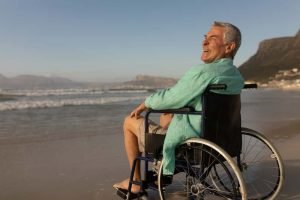 Traveling With Those Living With Alzheimer's Or Dementia
If your loved one has Alzheimer's disease or another form of dementia, you may need to consider some additional precautions and preparations.
Stick To Their Normal Routine
Knowing what to expect throughout the day is crucial for people with dementia. It reduces stress, anxiety and fear, but it is often difficult for them to remember new plans. Try to keep mealtimes, bedtimes and medication schedules as close to their home routine as possible. To minimize the stress of being in a new environment, bring along familiar objects and parts of their routine to create a sense of home, such as a blanket.
Communication
Tell your loved one where you are going and what you will be doing before and during each activity. Try not to go overboard with information, though. Complicated directions or other details may contribute to confusion and agitation or those living with dementia.
Provide A Calm Atmosphere
When planning activities, avoid very loud places and those with lots of people if your loved one does not do well with noise/crowds or is overly tired. Be very sensitive to the warning signs of anxiety and agitation. Increased confusion and irritability are indications that you need to find a quiet place nearby.
Be Aware Of Approaching Nighttime
Sundowner's Syndrome can increase fear and agitation just before the sun sets, so try not to stay outdoors in the evenings as the sun starts to go down. Return to the hotel room before it gets dark, close the curtains and turn on all the lights to minimize shadows and lessen the change from day to night.

Summer Vacations: Making Memories
Aside from all of the above, just take time to make memories with your elderly loves ones.  You never know when traveling away from home may become something they will not longer be able to do, so enjoy the experience while you all still can.
Traveling and exploring a new destination together may be a lot of work for the caregiver, but will provide endless opportunities to see the world in a different light.
Safe Summer Travels!
Please feel free to explore the blog section of Unicity Healthcare's website for a variety of articles regarding senior health, caregiving, Alzheimer's and dementia related issues, and many other topics regarding eldercare — as well as how we can help you with your home care needs.
* * *
If you are concerned about a loved one and need further assistance, Unicity Healthcare is here to help. You can benefit from the expertise of our experienced Senior Advisors, and can inquire on how to seek help from Unicity's qualified home care professionals to help ease the burden.
For more information please contact us at: