At Unicity Healthcare, we want to take the opportunity to recognize the many licensed social workers who serve our residents. March is Social Work Month, and the services these professionals provide are invaluable to our senior community.
Social workers provide many services for those in senior care: the main one being that they connect older adults with community resources that help them to safely maintain their best quality of life.
These dedicated, compassionate individuals are often referred to as the "unsung heroes of senior care." Providing resources and serving our aging loved ones is a job that we cannot ever underestimate the importance of.
Therefore, we would like to take a moment to acknowledge the hard work of this professional group of individuals.
National Social Work Month: March 2018
National Social Work Month is an opportunity for social workers across the country to put the highlight their profession; and it is during this time we would like to put the spotlight on those in our lives by honoring the contributions they make.
The official theme for Social Work Month 2018 is "Social Workers: Leaders. Advocates. Champions," and according to the National Association Of Social Workers website (NASW) every day the nation's 650,000 social workers act as advocates, champions and leaders who make our society a better place to live.
How Social Workers Provide Service To Our Elderly Population
Social workers provide invaluable services to our seniors. The range of responsibilities include, but are not limited to: admission planning, transitioning residents from their previous living situation, advocacy, upholding residents' rights, determining medical treatment wishes, assessment and care planning, complaint resolution, crisis management, discharge planning, coping with disease and disability, and end of life support.
While it simply isn't possible to list all the ways in which our social workers help residents, a few of the instances where the role of social worker is so important to our community are listed below:
When a resident suffers a loss (such as losing a loved one or a lifelong friend) a social worker is there to encourage grieving, all while encouraging staying connected with life.
If a resident is suffering from isolation or depression, a social worker makes sure he or she receives the appropriate care and access to resources.
When it becomes necessary for a resident to transition to a different level of care, a social worker ensures that the move goes smoothly; offering support and comfort to both the resident and their family and loved ones.
When a resident has a serious medical event or passes away, a social worker provides compassionate counseling for the resident's loved ones and friends in the community.
Within the entire community in which a social workers serves, their role is an invaluable source of knowledge and experience.
As you can see, the role of the social worker is to enable each individual to function at the highest possible level of social and emotional wellness.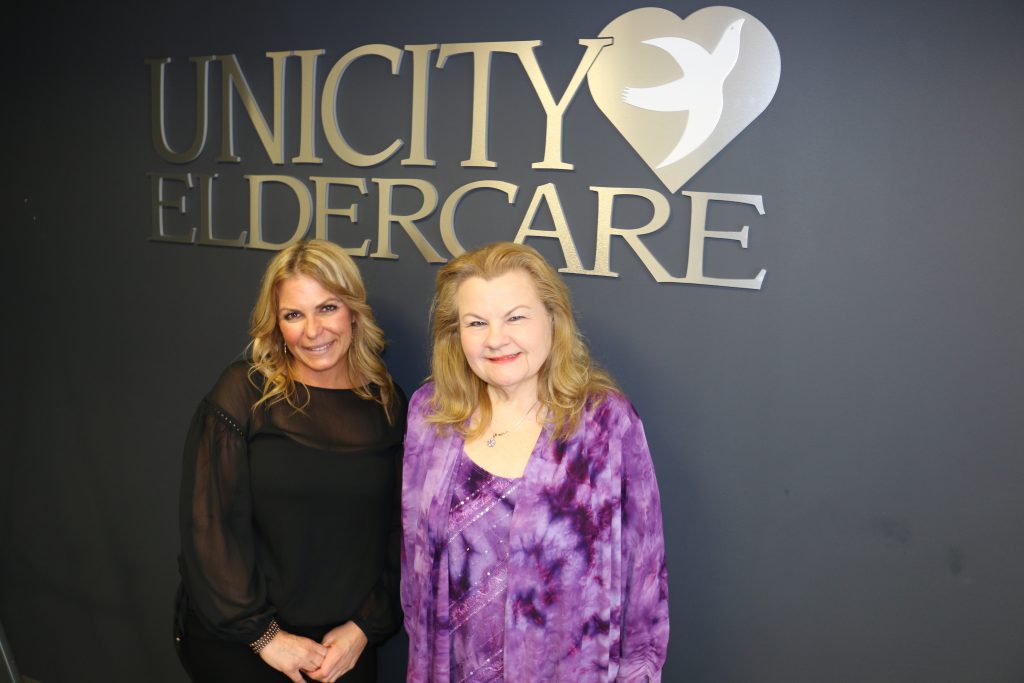 Pictured: Deanna Biagini, Social Worker & Senior Advisor: Marketing (left); and Linda MacDonald, Social Worker & Senior Advisor (right)
This week we honor Deanna Biagini, a Social Worker who works at Unicity Healthcare as a Senior Advisor in our Marketing department.  Deanna's career path towards becoming a Social Worker started back in 1988 in college, when she decided to pursue a Bachelor's Degree in Social Work.
In the video below, you can hear firsthand what Deanna has to say about her career and experiences as a Social Worker, as well as what working at Unicity Healthcare means to her.
Honoring Our Dedicated Social Workers
During the month of March in which we acknowledge the importance Social Work, Unicity Healthcare wants our Social Workers to know how much we value them as more than just employees, but part of our "family."
We are truly grateful for our wonderful social workers, and how their dedication to their profession has improved the quality of life of our senior community.
We celebrate the caring, compassion and hard work our team of Social Workers provide towards our residents, clients and family members. We value their dedication, which is why this month provides us the opportunity to say "Thank You"
We appreciate your hard work–not only this month, but year-round.
To Our Social Workers: Thank You For All You Do!