Every May, the Administration on Aging, part of the Administration for Community Living, leads the United States' observance of Older Americans Month.
This year for 2018 the theme is "Engage at Every Age"–  which emphasizes that you are never too old to take part in activities that can enrich your physical, mental, and emotional well-being.  This year's theme also celebrates the many ways in which older adults make a difference in our communities.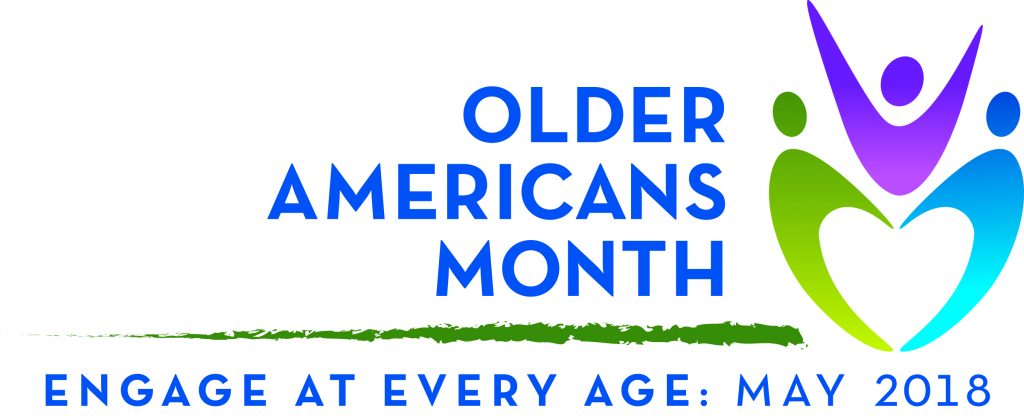 For 55 years, Older Americans Month (OAM) has been observed to recognize older Americans and their contributions to our communities. Every May offers opportunity to hear from, support, and celebrate our nation's elders. This year's OAM theme, "Engage at Every Age," emphasizes the importance of being active and involved.
The Origin Of Older Americans Month
In 1963, a meeting between President John F. Kennedy and the National Council of Senior Citizens started an important conversation about aging. At the time, only 17 million Americans were aged 65 or older and many of them were living in poverty. To put that in perspective, today's older population is almost 45 million strong!
At the time, there were few government programs in place to serve this growing population.  Thus, the National Council of Senior Citizens urged President Kennedy to shine a spotlight on the plight of older Americans and to develop programs to support them as they aged. President Kennedy signed a Proclamation acknowledging the month of May as Senior Citizens Month.
Years later when Jimmy Carter took office, he renamed May as Older Americans Month.  Since 1963, every President has ordered a yearly Proclamation that promotes Older Americans Month and encourages the rest of the nation to honor the older people in their communities.
This year's proclamation from President Donald Trump can be viewed here: Older Americans Month Proclamation 2018

"Engage At Any Age"
Ways to "Engage at Any Age" are different for every person, depending on their interests and physical abilities:
Volunteering: many older Americans enjoy volunteering and giving back to their community. There is a multitude of organizations in every community that need dedicated volunteers to give their time and energy.
Learning Skills: for other Americans, learning a new skill is a way to stay engaged mentally. Hobbies like sewing, gardening, crafting, or going back to school — the options are endless!
Staying Active: those who are still physically active can even consider starting a new health regimen:  popular activities such as yoga, Pilates or other low-impact aerobics are all popular.   Whether it is a daily walk through the park or something more intense, a regular routine of physical activity can keep you healthy and can sharpen the mind, too.
Sharing Wisdom: every older adult has a lifetime of experience and wisdom to share. Celebrate this month by recognizing and thanking a senior citizen who has done something that personally inspires you. Ask questions and learn about their life and what stories they have to share
In the past, many people viewed retirement as a time to slow down.  This month, and all year long, our Older Americans continue to play a critical role in the fabric of their local communities.

Living Longer — Living Well
For individuals with significant physical or mental disabilities, longer lifespans don't necessarily indicate better quality of life. Life expectancy increased over the past century with many people living into their 80s, 90s and beyond.
Thus, adults over age 60 now represent the fastest-growing segment of American society.  And with that increase in population, older adults are continuing to lead meaningful lives while pursuing activities they enjoy.
Research has found that a lack of feeling needed can have negative consequences for physical health, therefore to enjoy fulfillment in life, individuals need to feel that they have a purpose and are respected.  Older people want to continue making contribution as they age.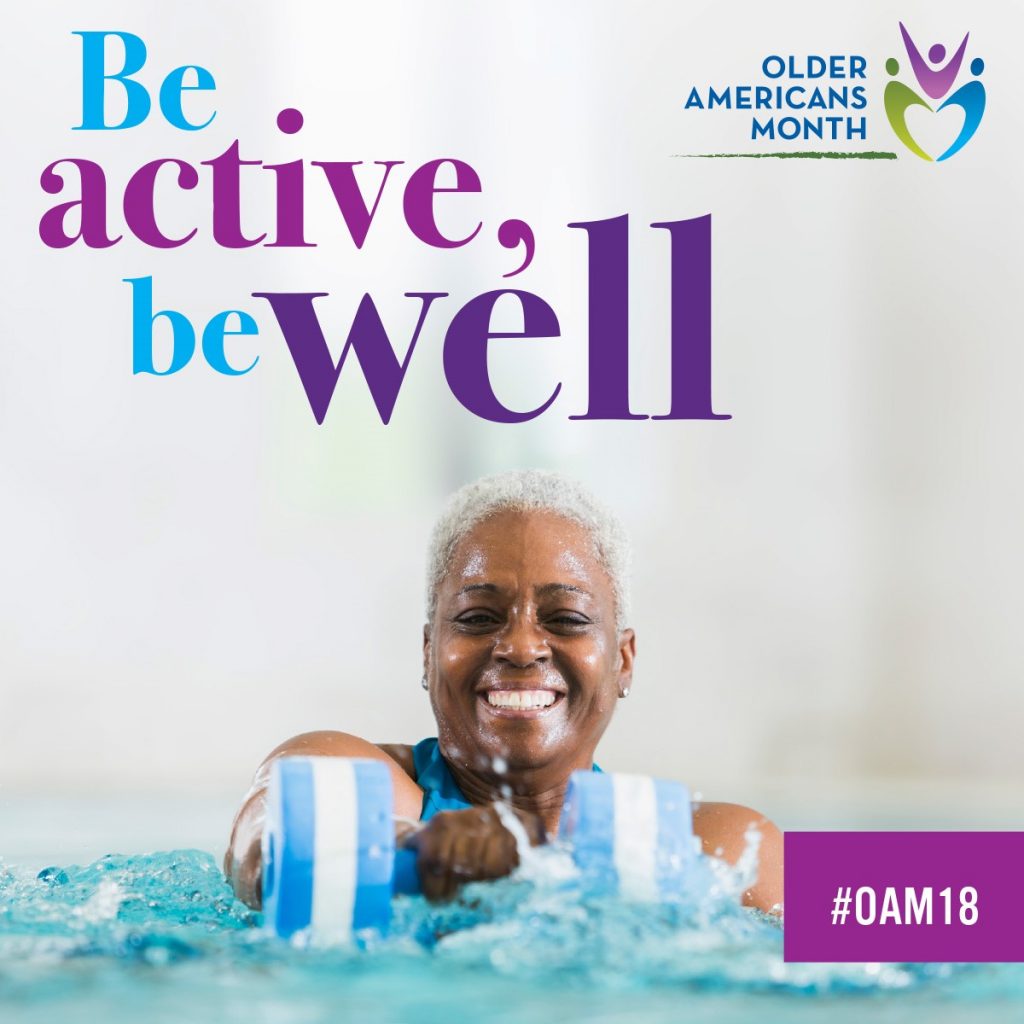 'Delayed Aging'
By engaging in physically and emotionally healthy behaviors — i.e., exercising, maintaining a healthy diet, and being social — individuals may be able to enjoy more years of good health! A growing body of research indicates that those with positive views of aging may live several years longer than those who maintain  negative stereotypes.
Embrace May as an opportunity to move outside your comfort zone, embrace a positive approach to aging and explore ways to make a difference in your community.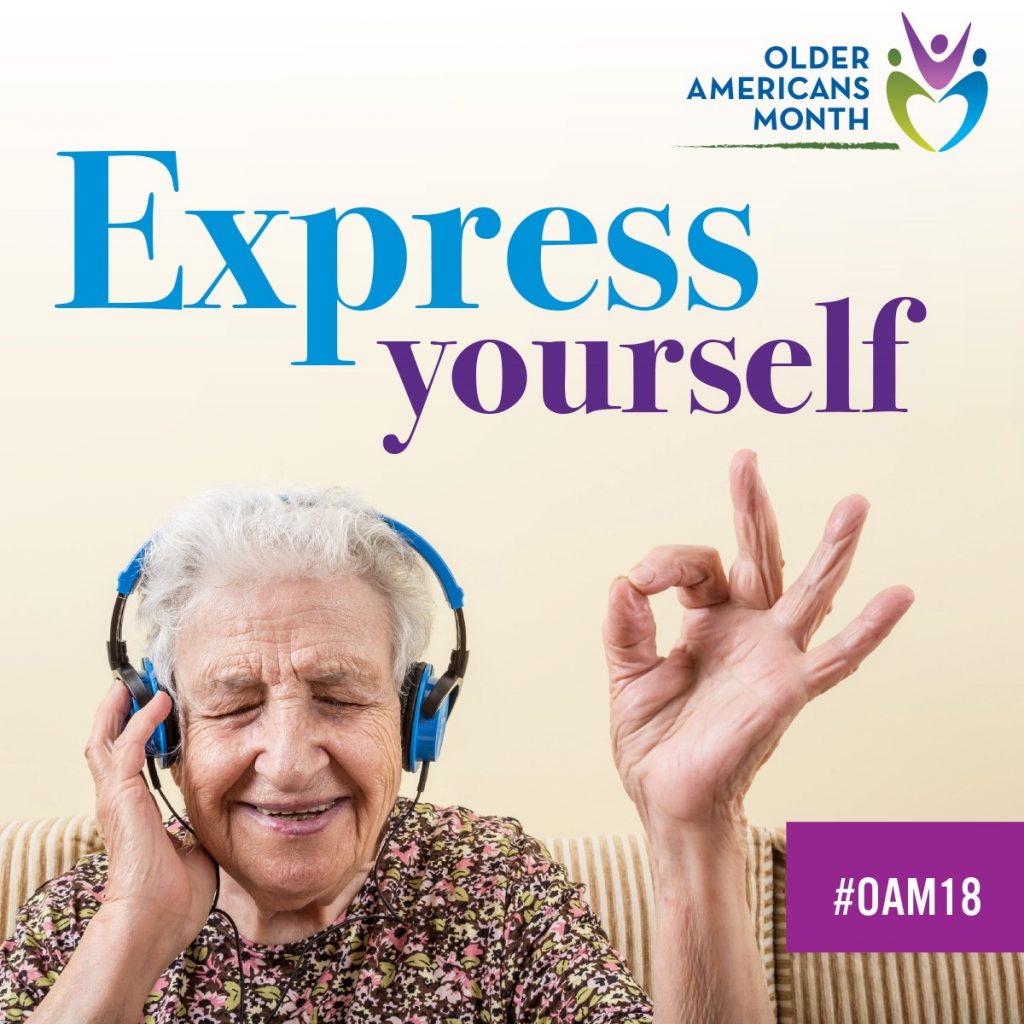 Take The Selfie Challenge!
Join the ACL and AoA in the Older Americans Month Selfie Challenge! This year during Older Americans Month, the Administration on Aging has issues a "Selfie Challenge" to see how our older Americans stay engaged — so that you can help inspire others to do the same!
Snap a selfie (or a "groupie" – with a group of your friends) — or have someone take your picture, showcasing your participation in activities that improve your mental and physical well-being.
Post your image to social media using the hashtag #OAM18.
Encourage your peers to do the same!
How to Participate in Older Americans Month
No matter where you are in your life, there is no better time
than now to get involved — and to "Engage at Every Age!"