Every May, the Administration on Aging, part of the Administration for Community Living, leads our nation's observance of Older Americans Month.
The Origin Of Older Americans Month
In 1963, a meeting between President John F. Kennedy and the National Council of Senior Citizens started an important conversation about aging. At the time, only 17 million Americans were aged 65 or older and many of them were living in poverty. To put that in perspective, today's older population is almost 45 million strong!
At the time, there were few government programs in place to serve this growing population.  Thus, the National Council of Senior Citizens urged President Kennedy to shine a spotlight on the plight of older Americans and to develop programs to support them as they aged. President Kennedy signed a Proclamation acknowledging the month of May as Senior Citizens Month.
Years later when Jimmy Carter took office, he renamed May as Older Americans Month.  Since 1963, every President has ordered a yearly Proclamation that promotes Older Americans Month and encourages the rest of the nation to honor the older people in their communities.
The 2019 proclamation from President Donald Trump can be viewed here: Older Americans Month Proclamation 2019
2019 Theme: "Connect, Create, Contribute"
This year for 2019 the theme is "Connect, Create, Contribute" — which encourages older adults and their communities to:
Connect with friends, family, and services that support participation.
Create by engaging in activities that promote learning, health, and personal enrichment.
Contribute time, talent, and life experience to benefit others.
Communities that encourage the contributions of older adults are stronger! By engaging and supporting all community members, we recognize that older adults play a key role in the vitality of our neighborhoods, networks, and lives.
For 55 years, Older Americans Month (OAM) has been observed to recognize older Americans and their contributions to our communities. Every May offers opportunity to hear from, support, and celebrate our nation's elders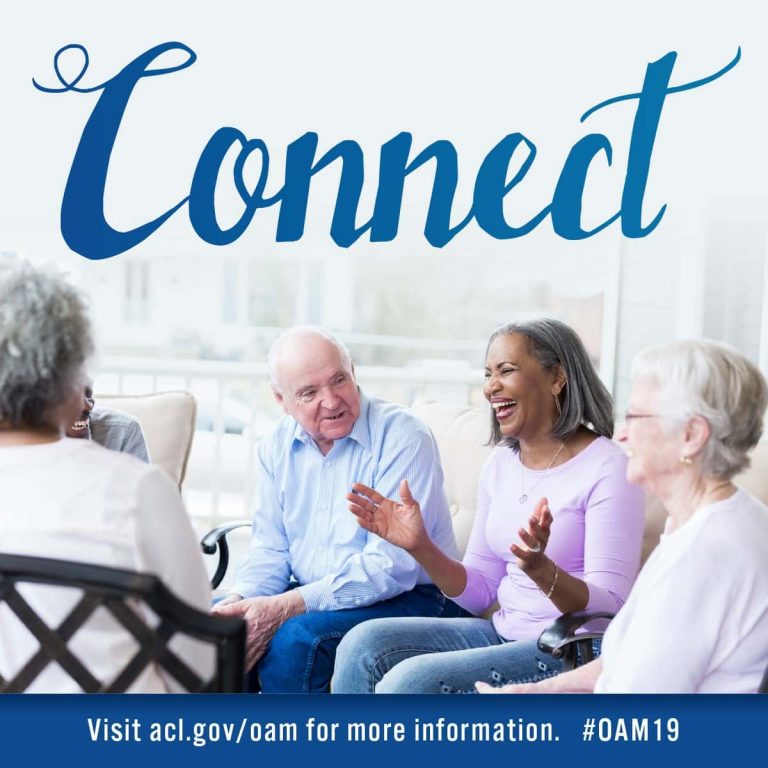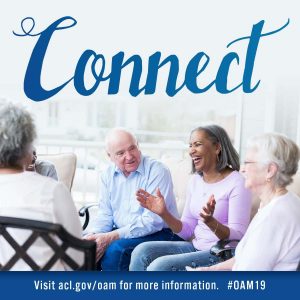 "Connect"
When they are able to connect with friends and family, older adults continue to play a key role in the vitality of our neighborhoods and the lives of their neighbors. Staying connected and involved also reduces isolation, prevents abuse and neglect, and leads to better emotional and physical health. Communities are stronger when they support and recognize the importance of including older adults in everything they do.
Providing services, supports, and resources that help older adults remain connected to the people and the things they value is so important.  These services include nutrition programs, health and wellness programs, caregiver support, community-based long-term care, and advocacy. Area agencies on aging, senior centers, local senior levies, and other resources help meet our older adult's needs in their homes and communities. This helps them stay connected longer, which benefits them and everyone around them.
Find services where you live – Connect with area agencies on aging, long-term care ombudsman programs, senior centers, employment providers, and others to learn about and access services and resources in your community.
Safe at home – Staying connected starts with being safe in your home and community.
Driver safety and transportation options – Being able to get around in your community is a critical part of staying connected and remaining independent and healthy.
Home- and community-based services and supports – Access programs to help eligible older Americans access the care they need in the settings they prefer.
Caregiver support – People who recognize themselves as caregivers are more proactive, engaged and confident, and provide better care longer.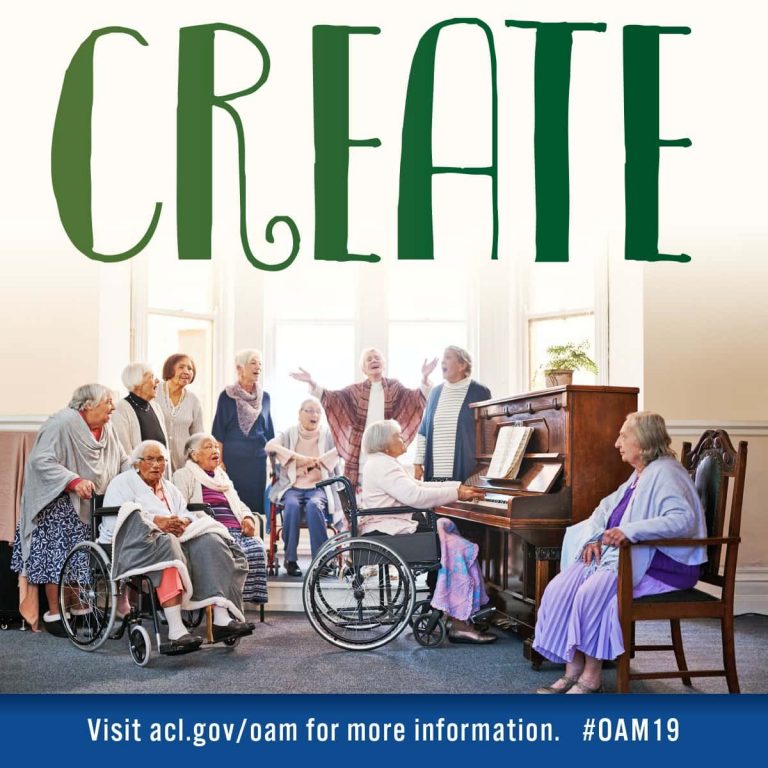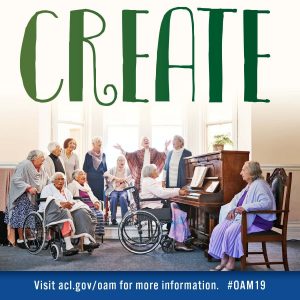 "Create"
Engage in activities that promote learning, health, and personal enrichment. Older Americans spend a lifetime adding to the creative fabric of their communities through art, service and ideas. Our older population is diverse, and so are their creative contributions — and creativity allows their minds to continue to grow while feeding the minds and stoking the interests of others
Lifelong learning – Stay engaged in learning to maintain or buffer your physical and mental well-being.
Volunteer programs – Older Americans give more than 350,000 hours of their time each year, helping people of all ages.
       

"Contribute"
Older Americans are an integral part of our society. Communities that think about them not just as a group that might need assistance, but as individuals who are still rich with values and abilities, benefit from their tremendous potential. Every day, countless older Americans contribute their time, talent, and life experiences to benefit others.
Older adults contribute in many ways. They remain in or return to the workforce to help drive our economy forward. They support vital organizations within their communities and our state through volunteer service. They are mentors and teachers for all ages. They advocate for and educate their peers and others to make decisions that will lead to better lives. They help where and when needed and serve as examples for the rest of us to follow.
Older workers – Compete in today's workplace by knowing what value you bring and how employers can get the most from you.
Be a volunteer long-term care ombudsman – Step up to be an advocate for long-term care consumers wherever they call home.
Be a volunteer health & wellness leader – Conduct evidence-based workshops proven to help participants manage chronic conditions, prevent injury and live more fulfilling lives.
Volunteer programs – Older Americans give more than 350,000 hours of their time each year, helping people of all ages.
Living Longer By Living Well
For individuals with significant physical or mental disabilities, longer lifespans don't necessarily indicate better quality of life. Life expectancy increased over the past century with many people living into their 80s, 90s and beyond.
Thus, adults over age 60 now represent the fastest-growing segment of American society.  And with that increase in population, older adults are continuing to lead meaningful lives while pursuing activities they enjoy.
Research has found that a lack of feeling needed can have negative consequences for physical health, therefore to enjoy fulfillment in life, individuals need to feel that they have a purpose and are respected.  Older people want to continue making contribution as they age.
Volunteering: many older Americans enjoy volunteering and giving back to their community. There is a multitude of organizations in every community that need dedicated volunteers to give their time and energy.
Learning Skills: for other Americans, learning a new skill is a way to stay engaged mentally. Hobbies like sewing, gardening, crafting, or going back to school — the options are endless!
Staying Active: those who are still physically active can even consider starting a new health regimen:  popular activities such as yoga, Pilates or other low-impact aerobics are all popular.   Whether it is a daily walk through the park or something more intense, a regular routine of physical activity can keep you healthy and can sharpen the mind, too.
Sharing Wisdom: every older adult has a lifetime of experience and wisdom to share. Celebrate this month by recognizing and thanking a senior citizen who has done something that personally inspires you. Ask questions and learn about their life and what stories they have to share
In the past, many people viewed retirement as a time to slow down.  This month, and all year long, our Older Americans continue to play a critical role in the fabric of their local communities.
Learn more about Older Americans Month from the U.S. Administration for Community Living  by visiting the website here: https://acl.gov/oam/2019/older-americans-month-2019.
Celebrate "Older Americans Month" By Raising Awareness!
Older Americans Month 2019 will include suggestions, resources, and material to celebrate older Americans and the communities of which they are a vital part. Visit acl.gov/oam for ways to get started, use the hashtag #OAM19 and #ConnectCreateContribute on social media!
Everyone benefits when everyone can participate. We encourage you to connect, create, and contribute for stronger and more diverse communities this May, and throughout the year.
This month, whether you acknowledge Older Americans Month or not, please look for opportunities to celebrate older people who are connected, creative contributors to their families and communities.
At Unicity Healthcare, you can benefit from the expertise of our experienced Senior Advisors if you are concerned about a loved one's care, and don't know where to turn.  If you are considering a change regarding the caregiving of your older loved one, we can help provide information about the services we provide.
Making your home a safe haven by preparing a home for aging loved ones can be a stressful task. Don't try to do it alone.  Unicity's qualified home care professionals are here to help ease the burden.
For more information please contact us at: