Depression is very real for many seniors, especially those with chronic health issues or dementia or Alzheimers. About six million seniors experience depression; and people over age 65 who have experienced a major health issue are at an even higher risk.
While depression is a common problem among older adults, it is NOT a normal part of aging. In fact, studies show that most older adults feel satisfied with their lives, despite having more illnesses or physical problems. However, important life changes that happen as we get older may cause feelings of uneasiness, stress, and sadness.
How can families help to navigate the depression that many seniors face as they experience other health issues including dementia and other related issues? In the article below, we discuss the signs of depression in our elderly loved ones, and how we can help.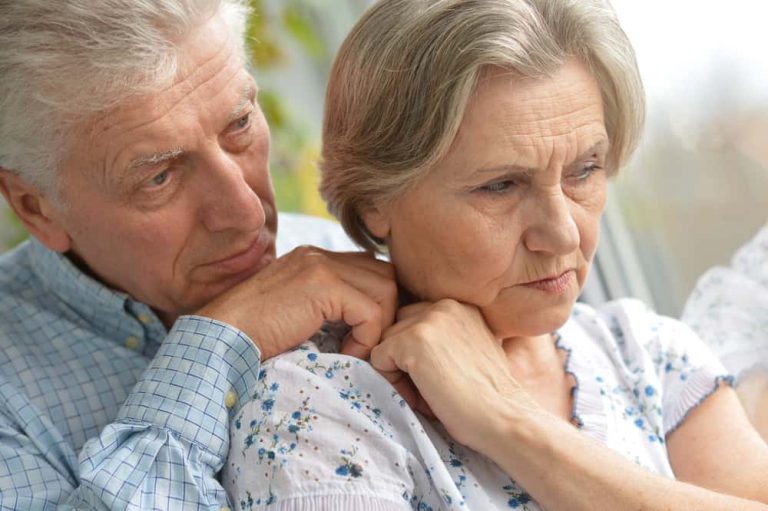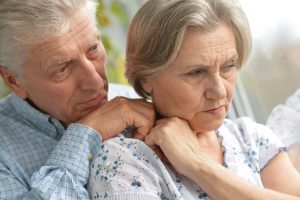 Depression And Our Elderly 
As we grow older, we often face significant life changes that can increase the risk for depression. These can include:
Health Problems – Illness and disability; chronic or severe pain; cognitive decline; damage to your body image due to surgery or sickness.
Loneliness And Isolation – Living alone; a dwindling social circle due to deaths or relocation; decreased mobility due to illness or a loss of driving privileges.
Reduced Sense Of Purpose – Feelings of purposelessness or loss of identity due to retirement or physical limitations on activities you used to enjoy.
Fears – Fear of death or dying; anxiety over financial problems or health issues.
Recent Bereavements – The death of friends, family members, and pets; the loss of a spouse or partner.
Genes – People with a family history of depression may be more likely to develop it than those whose families do not have the illness.
Personal History – Older adults who had depression when they were younger are more at risk for developing depression in late life than those who did not have the illness earlier in life.
Brain Chemistry – People with depression may have different brain chemistry than those without the illness.
Stress – Loss of a loved one, a difficult relationship, or any stressful situation may trigger depression.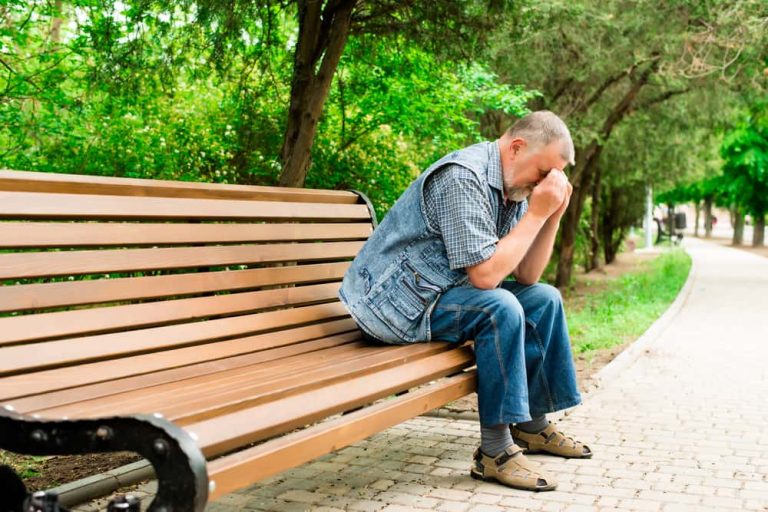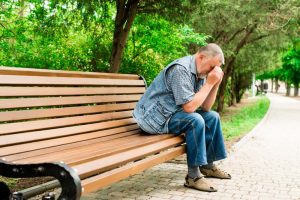 Medical Conditions Which May Lead To Depression
It's important to be aware that medical problems can cause depression in older adults and the elderly. Any chronic medical condition, particularly if it is painful, disabling, or life-threatening, can lead to depression.
Some of these include:
Parkinson's disease
Stroke
Heart disease
Cancer
Diabetes
Thyroid disorders
Vitamin B12 deficiency
Dementia and Alzheimer's disease
Lupus
Multiple sclerosis (MS)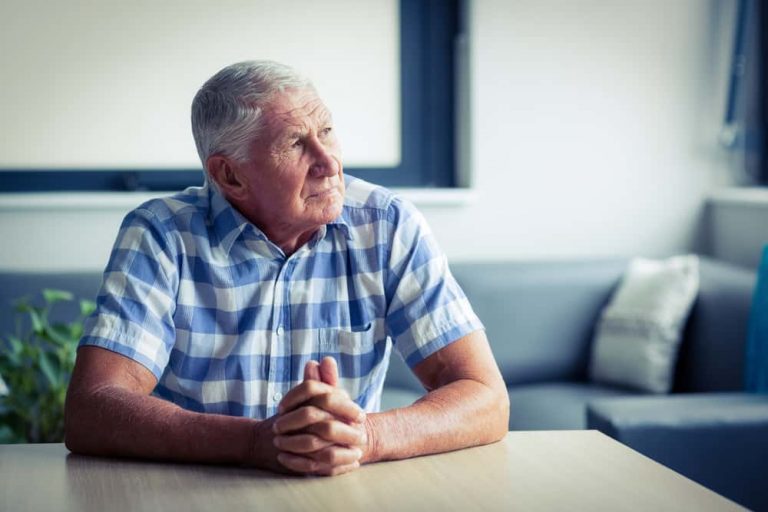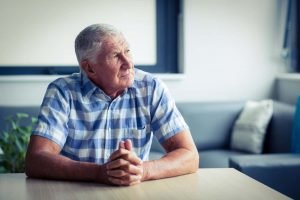 Dementia Or Depression?
A loss of memory is not a normal sign of old age. It could be a sign of either depression or dementia, both of which are common in older adults. Depression and dementia share many similar symptoms, including memory problems and low motivation, so it can be difficult to tell the two apart.
Confusion or attention problems caused by depression can sometimes look like Alzheimer's disease or other brain disorders. Older adults also may have more medical conditions, such as heart disease, stroke, or cancer, which may cause depressive symptoms. Or they may be taking medications with side effects that contribute to depression.
Whether cognitive decline is caused by dementia or depression, it's important to see a doctor right away. If it's depression, memory, concentration, and energy will bounce back with treatment. Treatment for dementia will also improve your quality of life. If you suspect a senior loved one is at risk for depression, learning the most common warning signs can help you intervene early.
Signs of senior depression include the following:
Mental decline is relatively rapid
Prolonged sorrow and sadness, lasting for more than a few weeks
Loss of energy and feelings of weariness
Withdrawing from favorite hobbies and social activities
Change in personality or mood
Easily tearful or quick to anger
Unintended weight gain or loss
Problems sleeping—either sleeping too much or too little
Difficulty concentrating and shortened attention span
On the other hand, some symptoms of dementia that mimic depression are as follows:
Mental decline happens slowly
Confused and disoriented; become lost in familiar locations
Difficulty with short-term memory
Writing, speaking, and motor skills are impaired
Person does not notice memory problems or seem to care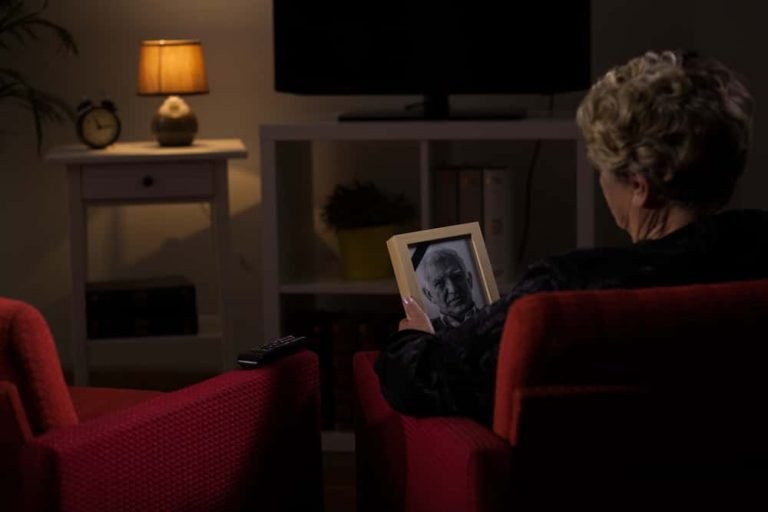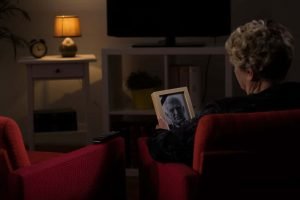 Treatments For Depression
Depression can be treated, and a good start is by making an appointment for your loved one to see their healthcare provider. This could be your primary doctor or a provider who specializes in diagnosing and treating mental health conditions (a psychologist or psychiatrist).  Since certain medications and some medical conditions can cause the same symptoms as depression, a doctor can rule out these possibilities by doing a physical exam, interview, and lab tests. If the doctor can find no medical condition that may be causing the depression, the next step is a psychological evaluation.
Treatment choices differ for each person, but the most common forms of treatment for depression are as follows:
Psychotherapy: Ongoing, talk therapy can be a source of support for elderly patients. Short term, solution focused therapy (Cognitive Behavioral Therapy) can also be effective in helping elderly patients eliminate thinking patterns and behaviors that contribute to depressive symptoms.
Support Groups: Groups designed to connect older adults experiencing similar issues (depression, medical conditions, bereavement, etc.) are beneficial in establishing social support.
Medication: Antidepressants can be prescribed to relieve the symptoms of depression. Antidepressants can have significant side effects, and elderly patients are sensitive to medications.
Lifestyle Changes: Daily exercise, healthy eating habits, and increasing social support are all important in helping elderly patients with depression. Friends and family members can help by scheduling outings, weekly visits,  assist with transportation, help with cooking meals, and assisting with chores or medication management.
For More Information About Depression

We're Here To Help
If your aging senior needs extra help and support and may be in need of geriatric or in-home care, Unicity Healthcare is here to help. Unicity Healthcare's geriatric care managers work closely with families to provide the assistance and peace of mind they need. 
We provide companion care, personal care, and Alzheimer's and dementia care so family members can rest easier. You can benefit from the expertise of our experienced Senior Advisors, and can inquire on how to seek help from Unicity's qualified home care professionals to help ease the burden.
For more information please contact us at: