Held during October, "National Physical Therapy Month" is celebrated as an annual opportunity to recognize physical therapy's efforts to "transform society by optimizing movement to improve the human experience." The primary aim of National Physical Therapy Month is to share and spread information related to the benefits of physical therapy as an alternative for long-term pain management.
The American Physical Therapy Association (APTA) strives to raise awareness of physical therapy as a safe and effective alternative to opioids for treatment of chronic pain conditions. This year's focus for National Physical Therapy Month  is "ChoosePT" which educates about the risks of opioid use and encourages physical therapy as a safe alternative for managing pain. The campaign uses the hashtag #ChoosePT and encourages everyone to join the campaign on social media and talk about the benefits of physical therapy for disabled adults and senior citizens.
For our seniors, one of the most effective ways to treat chronic pain and recover from injuries is physical therapy. It can also help seniors prevent falls and maintain overall fitness!
In honor of National Physical Therapy Month, Unicity Healthcare would like to share the following information on how we can all learn more about how physical therapy can help you and your senior loved ones.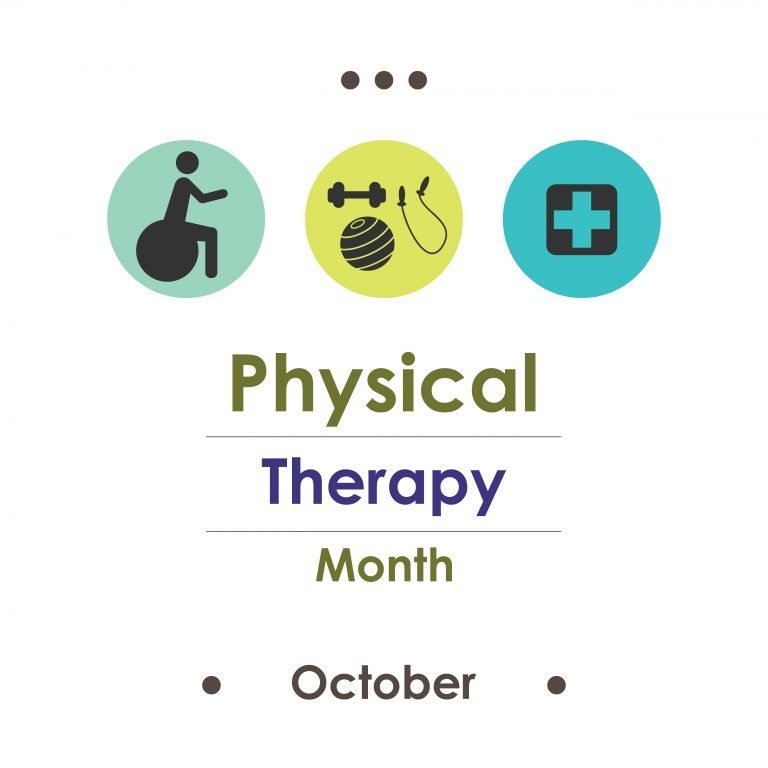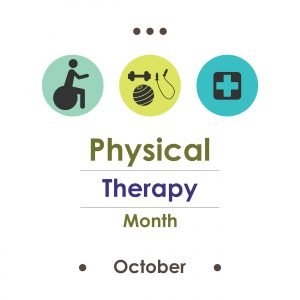 The Importance Of Physical Therapy
Physical therapists and physical therapist assistants can help improve your quality of life by restoring and improving your ability to move.  In many cases, a physical therapist can work with their patient to manage or eliminate pain without medication and its related side effects. In many cases, physical therapy may even be an alternative to surgery. A physical therapist will examine you and develop a plan of care using treatment techniques to promote your ability to move, reduce pain, restore function, and prevent disability.
For our seniors, they have a lot to gain from regular physical therapy. In fact, the potential of this alternative treatment option has created campaigns to spread awareness and disseminate information regarding physical therapy. Since October is "National Physical Therapy Month," it makes it prudent to consider how PT may help you, or someone you love.
For example, physical therapy helps people alleviate pain from chronic conditions like arthritis, avoid surgery and recover from injuries. But perhaps even more importantly, PT  can also help people stay fit and flexible as they age, preventing injuries from happening, and support overall well-being.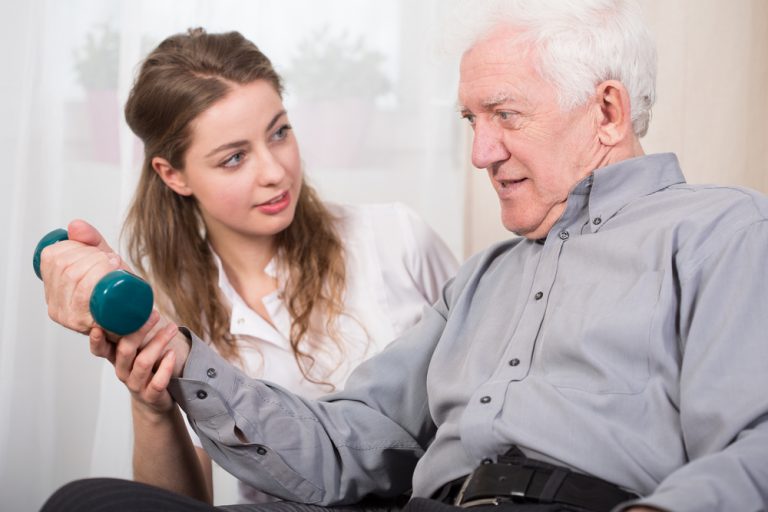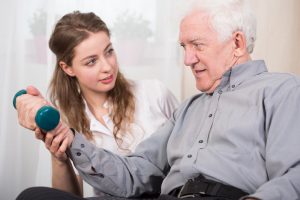 Physical Therapy For Elderly Loved Ones
If your senior loved one is active, coping with illness or injury, or sedentary, a physical therapist can help create an exercise regimen that suits his or her specific situation. Ordinary physical changes that come with aging — balance loss, reductions in mobility — can be delayed, prevented or even reversed, helping to reduce the occurrence of senior falls, thus lessening their risk of injury.
According to the APTA, physical therapy also has a number of other benefits: it can help seniors recover from neurological issues such as stroke, help them cope with the physical effects of chronic illnesses, and in some cases it can even alleviate pain without medication. If you believe your senior loved one would benefit from increased balance and mobility, greater fitness, or simply a reduction in physical pain, physical therapy could be an excellent option and a non-invasive treatment.

Physical Therapy To Help Stay Fit As Your Age
The APTA recommends working with a physical therapist to help with the following issues:
Preventing Obesity: being overweight in not only unhealthy, it can further increases the risk of chronic illness and injury
Exercising Improperly: exercising incorrectly is more harmful than beneficial, especially to our senior loved ones
Help to avoid common reductions in balance, flexibility and strength as we age; that make it a challenge for seniors to stay fit
Physical therapists also advise our senior loved ones to consider the following when discussing a PT program they wish to incorporate into their daily life:
A regular exercise program should include light strength training to improve balance, as well as aerobic activity and stretching.
For those who have always been physically active, as you age you may need to modify your workout regimen to accommodate the changes that come with aging.
Find an activity you enjoy is crucial, and physical therapists can help modify activities to accommodate any limitations seniors might have, which in turn will encourage them to stick with it.
Recognize their limitations, and listen to what their body is telling them. Rather than injure themselves, encourage your senior to eliminate a certain exercise, or even rest in between PT sessions in order for their body to recover.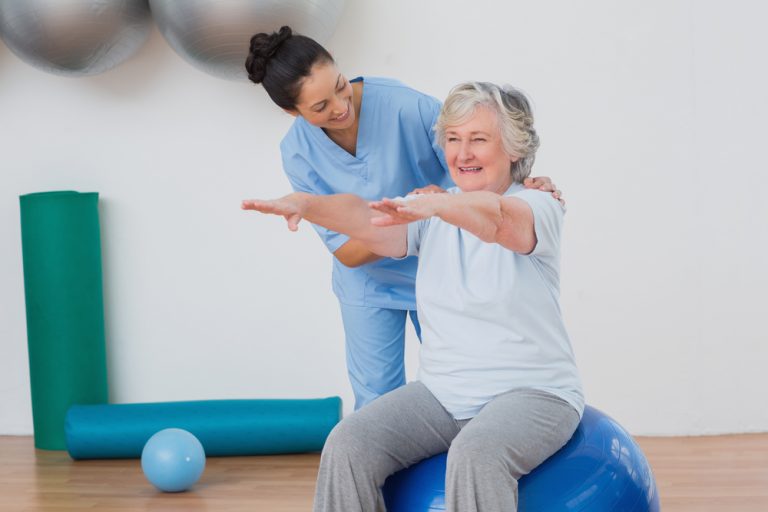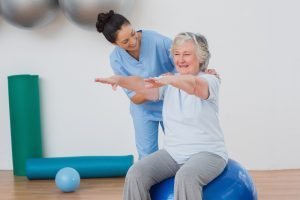 All of us can benefit from physical therapy, and it is widely used for many various conditions or injuries. Treatment has been found particularly effective with relieving such conditions as lower-back pain, osteoarthritis and fibromyalgia. Additionally, studies show that it may alleviate most non-cancer related pain, without the side effects of prescription medication.
For seniors, physical therapy can be extremely beneficial for many age-related issues:
Improves balance and reduces fall risk
Expedites recovery from strokes
Helps with blood circulation
Promotes flexibility in adults with disabilities and seniors with limited mobility
Maintains movement and ability to continue exercise
Teaches new ways to prevent physical injury and apply therapeutic methods to minimize pain
Helps to alleviate pain and symptoms felt from arthritis and joint pain
Physical therapy helps relieve chronic pain felt with chronic medical conditions and recovering injuries. Physical therapy is extremely beneficial for people with chronic conditions, and can even prevent surgery that would otherwise be inevitable for some.
Having physical therapy available for our seniors can ultimately help them towards living more independently, with a healthy quality of life for years to come.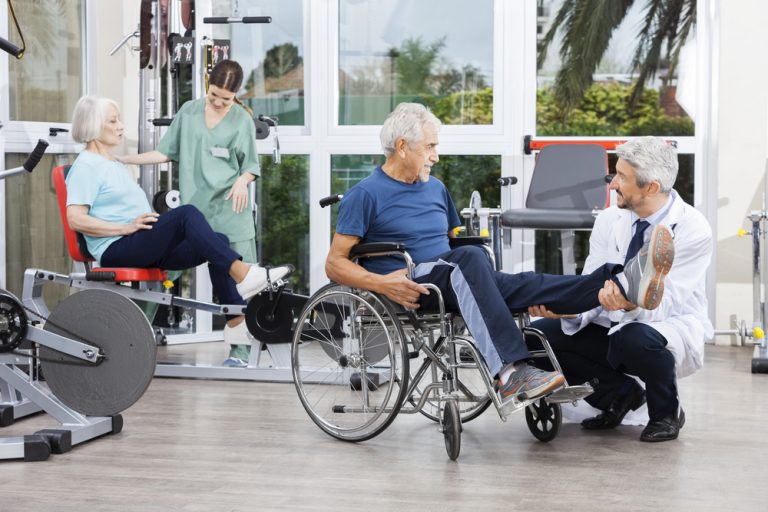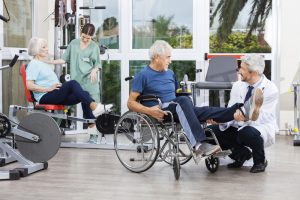 Benefits Of PT For Seniors With Serious Health Conditions
According to the APTA, physical therapy benefits those living with serious, chronic health conditions. Diagnoses including diabetes, fibromyalgia, arthritis and COPD are often better managed when physical therapy is prescribed, helping individuals to avoid unnecessary medications, experience less pain and sometimes, avoid the need for surgery.
For seniors who are frail or unstable, assisting them in accessing in home physical therapy has many advantages including:
Helping them to regain strength and avoid future falls
Preventing infections and skin ulcers by encouraging the senior to move and avoid being bedbound
Decreasing pain
Improving long term mobility and strength which makes it easier for seniors to age in place
Providing important caregiver education so family members can assist the senior in remaining active and achieving goals
Providing a renewed sense of confidence that empowers seniors to maintain their highest level of independence and makes the management of daily tasks easier.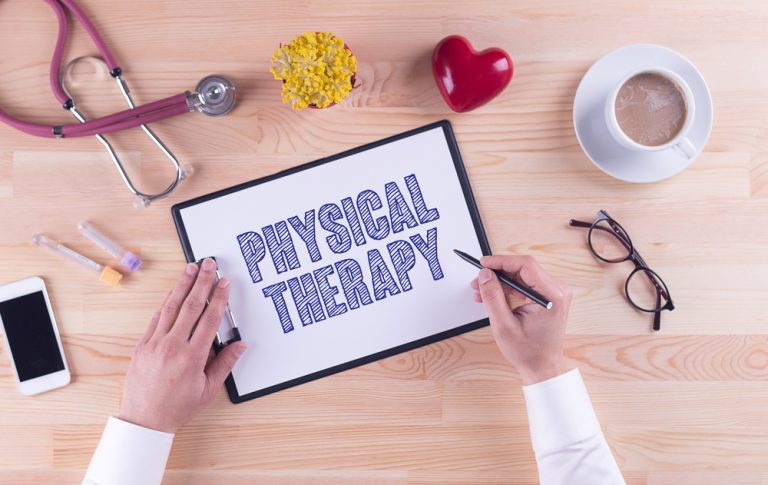 We're Here To Help
Our growing population of aging adults will spark an increasing demand for physical therapy. In fact by 2030, 20% of the population will be 65 or older, and as many as 40% of those will be coping with some sort of disability. Even seniors who are sedentary can benefit from exercise programs devised by physical therapists.
At Unicity Healthcare, our Care Managers provide continuity of care through regular weekly, bi-weekly or monthly visits to the client, providing a range of personalized services and a review of safety in the home. Our Care Managers can arrange and take their clients to Doctor's appointments, with follow-up reports to the responsible party. Keeping in close touch with the families or responsible parties, our Care Manager will take the lead over any situation that may occur and coordinate all required services.
For those who have had a stay in a hospital, nursing home or rehabilitation center, our Care Managers can provide various levels of assistance to ensure a safe transition to home, avoiding additional hospitalizations and reducing stress on the patient and family or caregivers.
For more information please contact us at:
Explore Unicity Healthcare's website: www.unicity-ec.com