As our senior loved ones age, you may start to see the beginnings of hoarding.  If your loved one's home is filling up with clutter to the point where moving around safely is impossible, it is time to recognize there is a problem and seek ways to find assistance and help. Of course, if you notice that your loved ones may be hoarding, the question that first arises is if they can continue to live at home safely and independently.  To decide, you'll need to know the reasons behind the behavior, what treatment and support options they have, and how alternative living arrangements may help.
Unicity Healthcare offers a variety of services to help your loved one gain independence and have an increased quality of life. From companionship and shopping assistance to 24 hour care, we can help to provide peace of mind.  Hoarding is just one issue that our professional geriatric care management team is here to help with. The team will assist in determining the safest living environment and the best options for care. A depression screening, balance assessment, home safety assessment and medication review complete the personalized assessment. A written care plan and follow-up meeting enable older adults and their families to get clear, individualized information and obtain helpful answers to their questions.
In this blog article, we will discuss how to identify the issue of hoarding among seniors, and how to seek help from professionals when you discover your senior loved one is hoarding.
What Is Hoarding?
Hoarding is defined as the keeping of possessions that do not pose a use or benefit to the person and that interfere with daily living. Researchers aren't yet sure why some people seem to become hoarders as they age, but there's no question that hoarding is a health danger to seniors. A home filled with excessive items, including trash and piles of paper, is a breeding ground for pests, a fire hazard, and can run the risk for falls.
If your parents, grandparents or other elderly loved ones are hoarders, you're not alone. Nearly 6% of the population has hoarding disorder, and although it may just look like clutter, clinicians who study hoarding in older adults says there can be very different reasons for it.  Additionally, scientists at the University of California in San Francisco conducted a study that discovered that 15% percent of older adults dealing with depression engaged in extreme hoarding.  These findings indicate that the depression and anxiety need to be addressed to provide a long-term solution.
According to the Mayo Clinic, some of the reasons for hoarding may include:
a decline in health that prevents people from keeping their home tidy
problems with planning and executing those plans; for example deciding to clean off a table and then not doing it
another mental-health condition like depression, anxiety, obsessive-compulsive disorder, or schizophrenia
an indecisive personality
attention-deficit problems
a family history of hoarding
stressful events such as bereavement or serious medical issues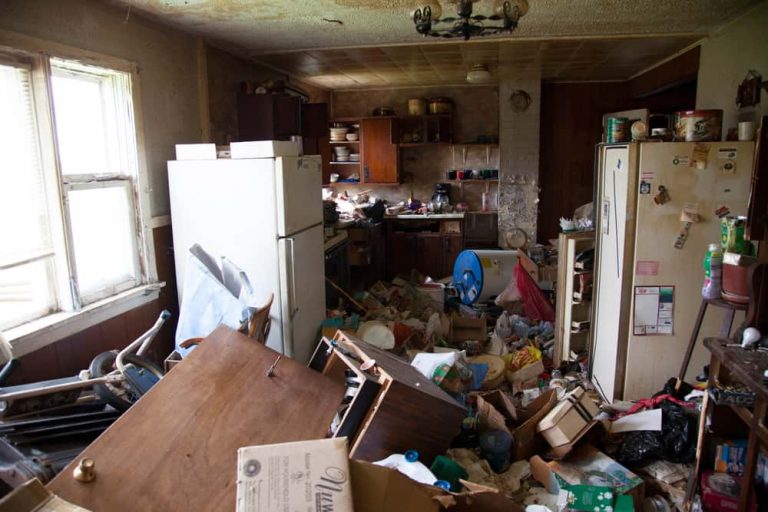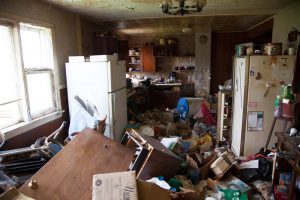 Health Risks Associated With Hoarding
Hoarding can put the health of the elderly, as well as their families and caregivers, at risk.  Excessive hoarding runs the risk of seniors becoming physically injured, as well having serious health consequences. Some risks can be:
Serious injuries from falling due to the inability to maneuver around the items
The risk of fire as a result of the numerous items in the home, which can also make it difficult to remove the elderly from the fire as a result
Mold or bacteria growth that can cause serious health issues that can result in serious illness or even death
Lack of sanitation can put an elderly person at risk for serious health complications
High ammonia levels can lead to serious health complications
These risks can also negatively affect family members, visitors and neighbors — especially if mold, bacterial growth, or animal fecal matter are present.
How To Help Seniors Who Hoard
Once steps have been taken to determine your loved one has an issue with hoarding, initial clean up can begin. It is important to do the initial cleanup as soon as possible because hoarding conditions pose hazards to seniors and their caregivers.  Again, a significant buildup of items piled on floors and stacked on furniture can cause falls and illness.
However, simply cleaning up a hoarder's home will not solve the problem of hoarding entirely. Many senior hoarding disorder patients may actually become upset when the home is cleaned up, and will then re-clutter within a few months.  A vital step towards helping a loved one let go of excess items is to gain trust. Do not scold them for their hoarding: it will only cause hostility. Additionally, it is important that your loved one feels in control of the cleaning and organization process or they may become extremely distressed.  It is important to keep in mind that they are not hoarding on purpose, so try to be understanding of their need to feel control of their life.
Treatment that works depends on the reasons for the behavior, and can include:
cognitive behavioral therapy with a licensed mental health professional
group therapy and family support
anti-anxiety and antidepressant medications
If your loved one is at a stage where they cannot reason, or do not want to let go of anything, someone may have to go through and remove items in order not to jeopardize the senior's health. Though removing items without the senior's knowledge is a short-term solution and will not change their hoarding patterns, it may be necessary.

Making Permanent Change
When hoarding continues to be an ongoing problem for your senior loved one, seeking medical help and researching local resources to provide treatment options is a good place to start.  Professional senior move managers are often skilled at navigating the emotional and logistical challenges of helping seniors de-clutter their homes.
However, by acknowledging there is an underlying mental health issues contributing to obsessive hoarding is the main component in ensuring that your loved one doesn't revert to old habits. Skills training and cognitive behavioral training are the most useful tools in preventing a relapse in hoarding behaviors. These tools retrain the individual's thought process that leads to the behavior, and teaches them new skills on how to stay organized.
For many seniors, especially those who live alone or who may feel socially isolated, the safest option may be daily in-home care or a move to an assisted living community. A new home, or professional caregiving and daily assistance, can help with hoarding tendencies.

Geriatric Care Management
When older adults and their families are faced with the challenges of aging and don't know where to turn, professional geriatric care management is the answer. Working closely with families, Unicity Healthcare's geriatric care managers' expertise can help.
Our Senior Advisors (GCMs) guidance and resources offer a comprehensive, client-centered approach to care that helps family members continue in their role whether it be that of husband or wife, son or daughter or other loving caregiver. GCMs offer solutions that can solve problems, save time, and ease stress and worry by tailoring a plan of care that meets the individualized needs of each client and offers ongoing follow-up.
All of Unicity Healthcare's Care Managers are either Licensed Social Workers or Registered Nurses, with significant experience working with the elderly community. Unicity Healthcare is also a member of the prestigious Aging Life Care Association.
A consultation, either in person, by phone or conference call with a member of our professional geriatric care management team will review solutions to problems that you, your family or your love ones are facing with respect to short or long term care arrangements. Our GCMs know the best providers of healthcare services in the area and can make the appropriate referral to your needs. We will assess an individual's needs and arrange for services and assistance available from private and /or not for profit providers including local and government agencies, and social service organizations.
If you are concerned about a loved one and need further assistance, Unicity Healthcare is here to help. You can benefit from the expertise of our experienced Senior Advisors, and can inquire on how to seek help from Unicity's qualified home care professionals to help ease the burden.
For more information please contact us at: