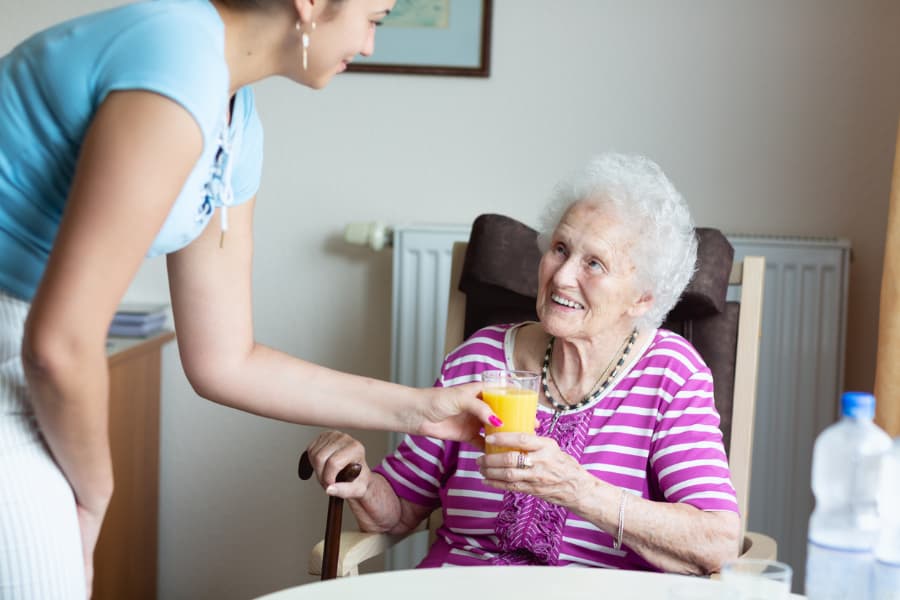 Caring for a parent or spouse with dementia at home can be mentally, emotionally, and physically stressful. But, you don't have to do it alone. The care managers at Unicity Healthcare are experts in dementia care, and all of our caregivers are regularly trained regarding dementia-related diseases, including Alzheimer's disease. We offer comprehensive care assessments and dementia care plans as well as Alzheimer's and dementia training and education so you understand what to expect regarding your loved one's care needs.
Dementia and Alzheimer's Disease
While it is a common diagnosis, dementia is not a specific disease. Rather, it is best described as a decline in mental ability that is severe enough to interfere with daily life. Between 60 and 80 percent of dementia cases are related to Alzheimer's disease, which is why it is the most well-known cause of dementia symptoms. However, dementia can also be associated with stroke, traumatic brain injury, alcohol abuse, degenerative diseases, and many other conditions.
People living with dementia often have problems with short-term memory, but they may also have behavioral symptoms, including irritability, anxiety, depression, agitation, sleep disturbances, delusions, and hallucinations. These symptoms can be especially challenging, which is why we partner with other dementia specialists in the area to help our clients manage behavioral symptoms.
Dementia Caregivers
The dementia care practitioners at Unicity Healthcare have extensive experience working with people who are living with Alzheimer's disease and other dementia-related diseases. Our dementia care practitioners supervise and regularly educate our compassionate dementia caregivers through in-class and on-the-job training as well as with virtual dementia simulations, which allow our caregivers to experience what it is like to live with memory impairment.
Our staff is trained in validation therapy, which is the most widely used methodology. This ensures that our dementia caregivers know how to engage with your loved one in a respectful manner that redirects interactions toward safe, happy, and failure-free outcomes.
Just as importantly, we recognize that each of our clients is unique. Accordingly, we take the time to ensure that our dementia caregivers receive the background, care plans, and instructions required to provide the best care in every situation.
Specialized Dementia Care Activities Plans
It's especially important for people diagnosed with a dementia-related disease to remain as active and mentally stimulated as possible with meaningful activities. For clients who receive homecare services, we offer specially designed activities plans that aim to keep those with dementia mentally and emotionally engaged. These plans can be administered by one of our dementia specialists or we can train the client's caregiver.
One of the best ways to engage individuals with dementia is through activities they've been passionate about throughout their lives. Your loved one's dementia care plan will take their hobbies, interests, and passions into account to help them stay involved with or return to the activities they enjoy most. And as his or her needs change due to the progress of dementia and other concerns, the care manager will modify the activity plan to address the evolving situation.
Get the Help You Need to Care for Your Loved One
As specialists in dementia care, we are passionate about improving quality of life for individuals living with dementia. We strive to build trusting relationships with our clients and their families so that you can have peace of mind when it comes to the care of your loved one. For more information about our dementia care services, please contact us at 201-670-7100 or visit one of our convenient locations throughout New Jersey today.